Contact
Live webcasts and video archives are a free public service and are not an official record of the Kiama Municipal City Council meetings. For a copy of the official public record, please refer to Council's website.
A copy of the minutes of each meeting will be available within 10 days after the end of the meeting.
If you have any technical questions, please read our Frequently Asked Questions.
Location of Council Meetings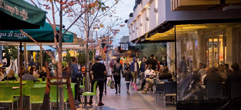 Welcome to Kiama Municipal Council's Live webcast website of Council Meetings
Kiama Municipal Council offers on-demand video and audio of Council meetings.
Live streaming allows you to view proceedings via the Internet without the need to attend Council meetings. This gives you greater access to Council decisions and debate and eliminates geographic barriers preventing the public from attending meetings.
From here you will be able to access webcasts of live Council meetings, view archived meetings and follow links to meeting schedules, agendas and minutes.